PROMENADE OF ART
RATED 99 BEST FINE ART & DESIGN SHOW BY SUNSHINE ARTIST MAGAZINE
IN ARLINGTON HEIGHTS, ILLINOIS • JUN 6-7 • SAT & SUN 10AM-5PM
---
The 13th annual Promenade of Art returns June 6th and 7th from 10 a.m.-5 p.m., along Vail and Campbell streets in downtown Arlington Heights.
"The Promenade of Art is delighted to return to Arlington Heights with a wide-variety of arts and cultural entertainment," says Amy Amdur, president of Amdur Productions. "Adding one-of-a-kind art as well as live music and local fare to the Village's already charming downtown, which is filled with café's and boutiques, enhances the Village's appeal as a must-visit, must-see weekend destination."
Free and open to the public, the Promenade of Art will showcase the work of more than 125 juried artists from across the country in a variety of mediums, including paintings, photography, ceramics, jewelry, and sculpture. In addition to the incredible artwork available for purchase, attendees will be able to interact with artists through demonstrations and booth chats. Kid-friendly activities will be found throughout the festival, including art fest bingo and a freestanding graffiti wall that is certain to evoke a splash of creativity from all who participate.
Festival attendees will also have the opportunity to enjoy many musical performances, including local favorites, such as American cover band Cirrus Falcon, and jazz guitarist, Jeff Libman, who will be performing on Sunday. Neighboring restaurants also will have a presence, including Circa 57, Day Go Dogs and Za, and Tuscan Market, known for its American/Italian delicatessen and wine bar.
2014 Festival Artists
Promenade of Art features the art of the following artists. Subject to change.
[put_artist_directory numberposts="15″ category="13″]
Visitor Information
WHAT:
The 13th annual Promenade of Art Arlington Heights featuring local Arlington Heights' restaurants
WHERE:
Downtown Arlington Heights
121 West Campbell (intersection of Vail and Campbell)
Arlington Heights, Illinois 60005
WHEN:
June 6-7, 2015
Saturday 10:00 a.m. – 5:00 p.m.
Sunday 10:00 a.m. – 5:00 p.m.
COST:
Free Admission, FREE Parking at Metra Lot
HIGHLIGHTS:
Incredible artwork, live music, and great food from neighboring restaurants add to the experience of this FREE outdoor festival. Fun art activities for kids make Promenade of Art Arlington Heights a destination for art enthusiasts of all ages!
Questions?
Need more information? Call the office 847-926-4300 or email info@amdurproductions.com with any additional questions or requests.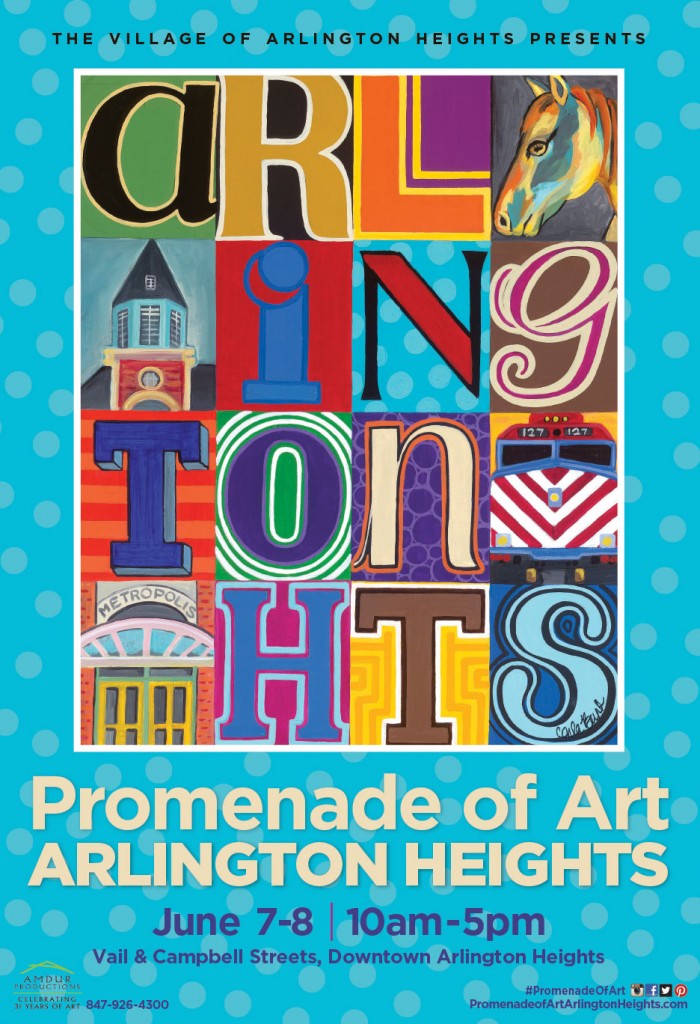 Metra
Take Union Pacific Northwest Metra Line to the Arlington Heights Station
Getting There
The festival is located in downtown Arlington Heights at the intersection of Vail and Campbell.

View Larger Map
Proudly Sponsored by:
2015 MUSIC YOU CAN MOVE TO
YOUTH ACTIVITIES
[show_myfile file='wp-content/themes/thesis/youth_activities.php']
ARTISTS APPLY TODAY
Applications are still being accepted. Artists will be applying for a wait-list position.
Applications can be emailed to:
Angie@Amdurproductions.com
Or Mailed to:
Amdur Productions
PO Box 550
Highland Park, IL 60035
FOOD VENDORS & MUSICIANS
Food vendor applications can be mailed to:
Amdur Productions
PO Box 550
Highland Park, IL 60035
Musician? Email Lindsey at Lindsey@Amdurproductions.com