Southport Art Festival
CHICAGO, ILLINOIS • JULY 18-19, 2015
SATURDAY & SUNDAY • ART 10a – 5p • MUSIC 10a – Night
---
The festival will showcase the work of more than 75 of the city's most diverse artists who work in a variety of mediums, including oil, acrylic, watercolor, jewelry, sculpture, photography, glass and mixed media. Attendees can look forward to seeing Chicago-based standout artists, such as Todd Babb, an innovative sculptor; Shawn Keiffer, an edgy architectural photographer; and Ezra Siegal, an abstract painter. In addition to supporting the arts and viewing incredible artwork that is available for purchase, festival guests also will have the opportunity, through live art demonstrations and booth chats to speak one-on-one with the artists.
Each year, the Southport Art & Music Fest also hosts an exciting lineup of live music. Taking the stage this year are some of Chicago's favorite musical entertainers, including Hairbangers Ball, Wedding Banned, Stache and 97 Nine. There will also be a special area designated just for kids with interactive games and activities. Restaurants in the Southport Corridor area will be open for business, serving up summer favorites.
2015 Festival Artists
The Southport Art & Music Festival features the art of the following artists. Subject to change.
Visitor Information
WHAT:
Southport Art Festival
WHERE:
On Southport Avenue from Waveland to Grace
3704 N. Southport Ave.
Illinois 60022
WHEN:
Saturday, July 18
ART 10:00 am – 5:00 pm
MUSIC 10:00am – 10:00pmSunday, July 19
ART 10:00 am – 5:00 pm
MUSIC 10:00am – 9:00pm
COST:
$5 donation to Southport Neighbors Association
HIGHLIGHTS:
Exquisite artwork of all mediums will be represented at this summer festival. This show also features live bands, beer, and neighborhood cuisine.
Getting There
Questions?
Need more information? Call the office 847-926-4300 or email info@amdurproductions.com with any additional questions or requests.
2015 Festival Poster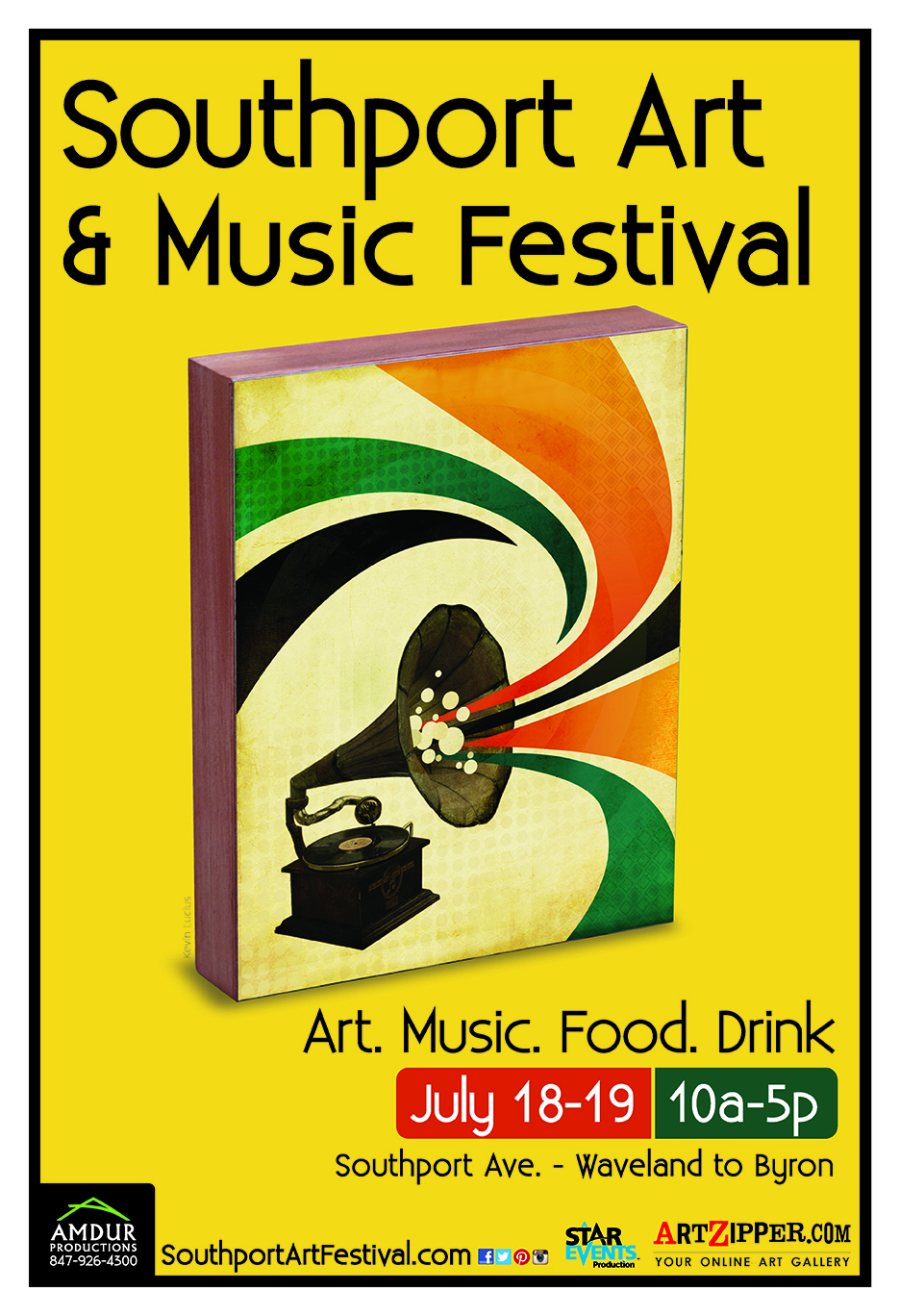 Saturday, July 18 Music
| | |
| --- | --- |
| 10a-10:30a | All About Dance |
| 11a-12p | Suena Latin Jazz |
| 12-1:30p | Brooke and the Nice Things |
| 2-3:30p | Lisa Roti |
| 4-5:30p | Gussied |
| 6-7:30p | Stache |
| 8-10p | Hairbangers Ball |
Sunday, July 19 Music
| | |
| --- | --- |
| 10a-11:30a | Deliverance Singers |
| 12-1:30p | J-Livi & The Party |
| 2-3:30p | Mer |
| 4-6p | 97Nine |
| 7-9p | Wedding Banned |
Proudly Sponsored by:
2015 TASTY TREATS
Check
here
for the tasty food!
2015 MUSIC YOU CAN MOVE TO
Check here for the music!
YOUTH ACTIVITIES
Plenty of fun activities for kids will be at the Southport Art Festival!
ARTISTS APPLY TODAY
Applications are still being accepted. Artists will be applying for a wait-list position.
SPONSOR THE FESTIVAL
VIEW THE 2014 FESTIVAL ARTIST AWARDS