Southport Art Festival
CHICAGO, ILLINOIS • JULY 18-19, 2015 • SATURDAY & SUNDAY 10-5
---
The Southport Art Festival features live entertainment, great food, artisans, and interactive activities for all. Come out and enjoy a GREAT summer weekend!
The Southport Art Festival gives attendees a delicious, eclectic mixture of the culinary, visual, and performing arts. This two-day community festival is located at 3700 N. Southport at Waveland near Wrigley Field home of the Chicago Cubs. Southport is one of the city's mecca shopping/nightlife districts and includes beautifully maintained tree-lined streets, with rows of lovely houses in all manner of architectural styles. Local artisans will showcase their wares and local restaurants and eateries will offer your favorite summer food.
Our Sunday Gospel Brunch will provide an early morning opportunity to join us in this celebration of community. The Southport Art Festival has always featured Chicago's favorite entertainers, including Ralph Covert, Edwin McCain, Justin Roberts and many more. This festival always offers an exciting array of live music on our main stages and lots of other interactive activities and entertainment opportunities.
Known for its unique and independent boutiques, this neighborhood is one of Chicago's premier shopping attractions. Visit Uncommon Ground, a locally owned coffee shop featuring local musicians, or catch a movie at Southport's Music Box Theatre, a neighborhood staple since 1929, showing foreign, art house and classic films. The Lakeview/Southport corridor neighborhood offers many options for dining, drinking, shopping, and theater as well as baseball at the historic Wrigley Field.
The Southport Art Festival benefits the Southport Neighbors Association. Since 1988, Southport Neighbors Association (SNA) has been representing the residents and businesses of the unique and vibrant neighborhood, in the heart of Lakeview. Admission is a $5 suggested donation.
2015 Festival Artists
Gold Coast Art Fair at Grant Park features the art of the following artists. Subject to change.
Visitor Information
WHAT:
Southport Art Festival
WHERE:
On Southport Avenue from Waveland to Grace
3704 N. Southport Ave.
Illinois 60022
WHEN:
July 18-19, 2015
Saturday 10:00 am – 5:00 pm
Sunday 10:00 am – 5:00 pm
COST:
$5 donation to Southport Neighbors Association
HIGHLIGHTS:
Exquisite artwork of all mediums will be represented at this summer festival. This show also features live bands, beer, and neighborhood cuisine.
Getting There
Questions?
Need more information? Call the office 847-926-4300 or email info@amdurproductions.com with any additional questions or requests.
2015 Festival Poster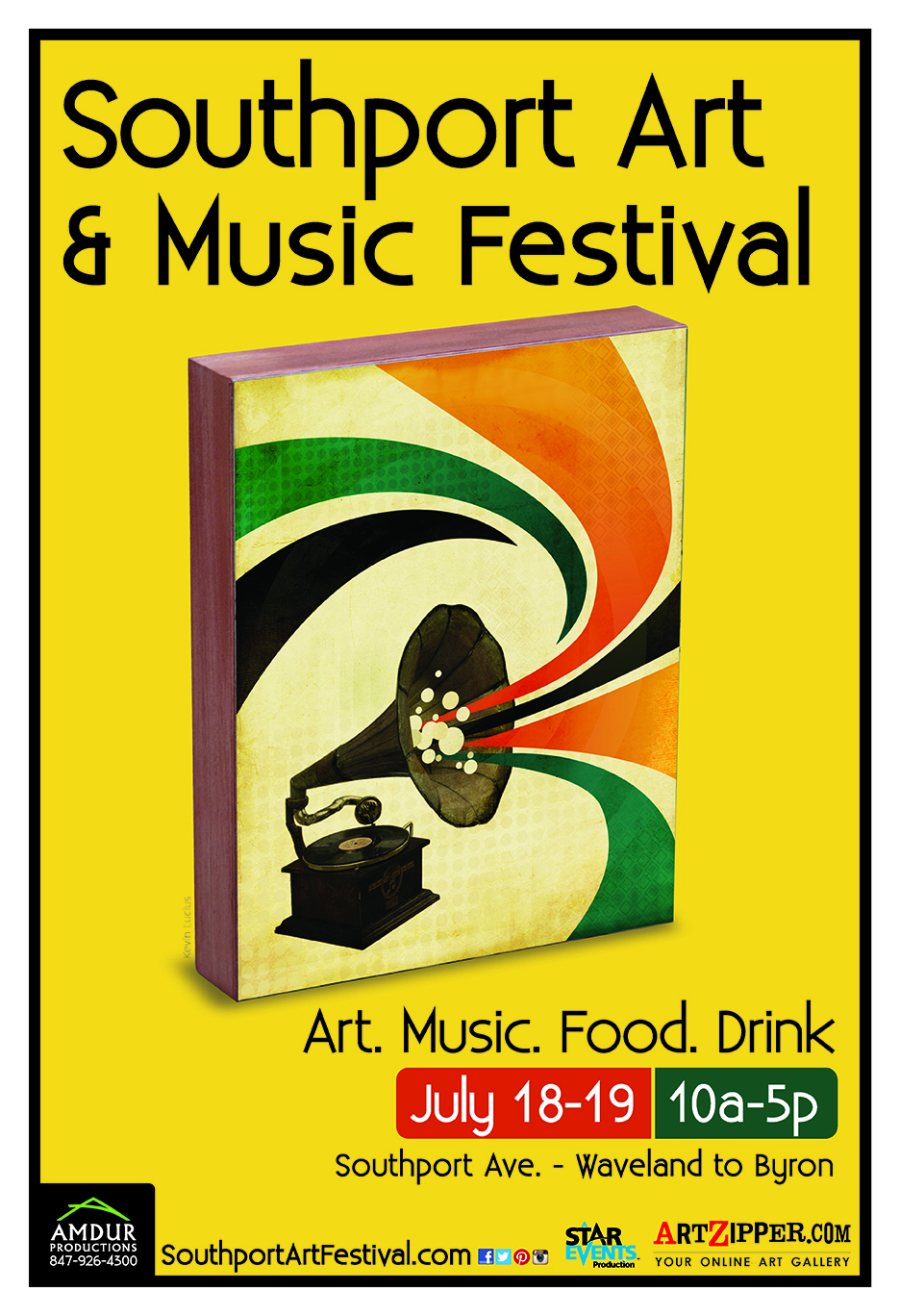 Proudly Sponsored by:
2014 MUSIC YOU CAN MOVE TO
Check here for the music!
YOUTH ACTIVITIES
[show_myfile file='wp-content/themes/thesis/youth_activities.php']
ARTISTS APPLY TODAY
Applications are still being accepted. Artists will be applying for a wait-list position.
SPONSOR THE FESTIVAL
VIEW THE 2014 FESTIVAL ARTIST AWARDS