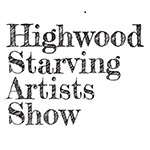 Great Art at Great Prices!
Highwood, Illinois • September 29 & 30, 2018 • Saturday & Sunday 10a-5p
---
Great Art at Great Prices!
The Highwood Starving Artists Show is a wonderful change of pace; a different type of show. Artists will sell their odd pieces and clear their art inventory at this end-of-season outdoor show. This is a show where artists can discount, reduce, and generally sell off extra art inventory. Visitors can come looking for bargains on everything from jewelry to ceramics to fine art. This unique art fair offers artists the opportunity to sell off their inventory at the end of the season; great art at great prices!
Free and open to the public, the Highwood Starving Artists Show will showcase the work of up to 120 juried artists from around the world in a variety of mediums, including ceramics, fiber, glass, jewelry, painting, sculpture and more. In addition to the incredible artwork available for purchase, attendees will be able to interact with artists through demonstrations and booth chats.  Live music, kid-friendly activities, and tasty treats also will be available for visitors to enjoy.
Share on social media
2018 Festival Artists
Coming Soon!
Visitor Information
WHAT:
The Highwood Starving Artists Show
WHERE:
Downtown Highwood
Green Bay Road
from Highwood Ave to North
Highwood, Illinois
WHEN:
September 29-30, 2018
Saturday 10:00 a.m. – 5:00 p.m.
Sunday 10:00 a.m. – 5:00 p.m.
COST:
Free Admission, Free Parking available throughout the downtown
HIGHLIGHTS:
Discounted artwork, live music, great food and fun activities for kids make the Highwood Starving Artists Show a destination for art lovers of all ages.
Want to be an artist in this show? Click on the Application below!
Metra
Take the Union Pacific/North line to Highwood station. Festival is conveniently located one block east of the Highwood station.
Questions?
Need more information? Call the office 847-926-4300 or email info@amdurproductions.com with any additional questions or requests.
Proudly Sponsored by
2017 TASTY TREATS
2018 MUSIC YOU CAN MOVE TO
Contact Lindsey at Lindsey@AmdurProductions.com to play at this show!
YOUTH ACTIVITIES
Let the kids express themselves by drawing on the Graffiti Wall or taking a spin on the spin art machine!
Free activities including coloring and art fest bingo make this a fun, kid friendly art festival!
ARTISTS APPLY TODAY
Artists may still apply after the regular application period by submitting the Late Application below. Late applications will be reviewed in house and artists will be applying for a wait list position. Artists are taken by wait list number and category openings.
SPONSOR THE FESTIVAL
Sponsor this art festival and gain exposure!
Contact Us Today! Call 847-926-4300 or email Info@AmdurProductions.com.