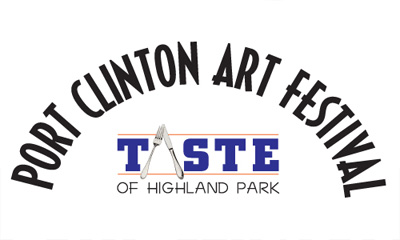 TASTE OF HIGHLAND PARK – RESTAURANT INFO
Highland Park, Illinois • August 26, 27 & 28, 2016 • Friday 5p-10p, Saturday 10a-10p & Sunday 10a-6p
---
This year, Amdur Productions will host the 10th Annual Taste of Highland Park, which will run in conjunction with the 33rd Port Clinton Art Festival in the heart of Downtown Highland Park. The Taste of Highland Park will take place on Central Avenue between First and Second Streets on Friday, August 26; Saturday, August 27; and Sunday, August 28. You are invited to participate in this event to build, promote, and market your business to thousands of attendees from near and far by showcasing your unique cuisine, delivery service, passing out menus, and collecting names for future mailings. Enclosed for review, please find a Taste of Highland Park Fact Sheet and Taste of Highland Park Food Vendor Application Form. We hope that you will participate in this year's Taste of Highland Park and take advantage of this opportunity to increase your business's exposure, develop new customers, re-connect with old customers, and enhance the success of your business. Market your business at the showcase of Highland Parks finest restaurants. Should you have any questions regarding this year's event or the information contained herein, please do not hesitate to contact us.
---
Overview:
Local food vendors setup on Central Avenue between First & Second Streets
Common dining area and professional janitorial staff busing tables
Live music and entertainment from the main stage
Hours:
Friday, August 26: 4:00pm to 10:00pm
Saturday, August 27: 10:00am to 10:00pm
Sunday, August 28: 10:00am to 6:00pm
Advertising & Promotion
The Taste of Highland Park is a great place to showcase your specials of the
house, pass out menus, promote a new brunch, market your facility as a
special event location to new and existing customers.
Food is sold directly to the public with no cut or commission owed.
Requirements & Suggestions
Maximum of seven approved (6) food items, and six (6) beverage items may
be sold. Suggested food pricing at $3-$9 per item.
There will be fixed pricing on standard brand/size bottled water, soda and
wine/liquor/beer.
Only pre-approved food and beverages may be sold from participating
vendor booths. No other sales of goods will be allowed. Neither hawking nor
selling outside the booth is allowed.
Vendors must be open and operating during all Taste hours.
It is mandatory that all staff be uniformed or wear staff shirts.
Participants using grease will be required to lay a grease-proof piece of material under their booth, and dispose of the grease off-site.
No refunds will be granted following acceptance. Participants must pass onsite food inspections by the Lake County Health Department. Failure to pass does not constitute grounds for a refund

Proudly Sponsored by:
---