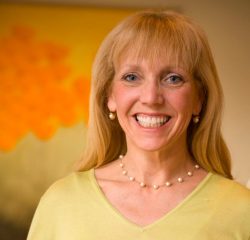 For Amy Amdur, art will always be an enduring passion. A Highland Park, Illinois native and a fourth generation Chicagoan, Amdur cultivated her love of art from a young age, starting painting classes at the early age of 5. That summer she exhibited her early paintings at an art show in her hometown, where she was offered $25 for a painting, a payment she graciously turned away. To Amy, exhibiting at a show was enough of an award and the excitement it brought has fueled her passion to bring together artists, communities, and collectors for more than 35 years and counting.
Upon graduating from Northwestern University and also attending the School of the Art Institute and the Kellogg School of Business, Amdur worked for her father, Steve Amdur, a developer who revitalized downtown Highland Park through his role as one of the creators and developers of the Port Clinton Square office and retail center in the heart of downtown Highland Park. (A portion of First Street is named after Steve in his memory)
In 1984, during construction of the Port Clinton project, Amdur was tasked with creating and producing grand opening and ongoing activities for the downtown Highland Park location. Her early vision created lasting results, as she launched the Taste of Port Clinton, Music in the Plaza, and the inaugural Port Clinton Art Festival with 40 artists and thousands of visitors. The community latched onto the Port Clinton Art Festival, and today the Port Clinton Art Festival attracts thousands of visitors annually and ranks as one of the country's most prestigious art fairs, according to Sunshine Artist Magazine.
With the success of the early years of the Port Clinton Art Festival fresh in her mind and a continued desire to make art available to the public, Amy began to build and expand her art festival production company. In addition to working full-time jobs away from the Port Clinton project; working for Holiday Inn Corporation, Chicago Design Group, Miami City Ballet, Florida Grand Opera, and the Florida Philharmonic Orchestra, Amy spent the majority of her nights and weekends creating Amdur Productions from scratch.
Upon the birth of her daughter, Amy left her job as Development Director for the Florida Philharmonic and went into business full-time for herself. With the rapid growth and success of Amdur Productions, the company quickly grew out of Amdur's home and she relocated the business to its current location in Highland Park.
After more than three decades, Amdur Productions produces more than 25 events annually, has a staff of more than 30 employees which is made up of six full-time employees, dozens of permanent summer employees, and several summer interns. Amdur Productions manages all aspects of the events they run. Today, Amdur Productions creates events from start to finish: event naming, date and location selection, all infrastructure, marketing, sponsorship, planning, and on-site production. Amdur Productions has received national acclaim for having organized and directed many of the country's most prestigious juried art festivals, including the Gold Coast Art Fair at Grant Park, Port Clinton Art Festival, Millennium Art Festival in Chicago, Art at the Glen Town Center, Third Ward Art Festival in Milwaukee, and many more. ArtZipper.com is Amdur Productions' latest launch, an online e-commerce site selling art from hundreds of artists across the country.
Amy is an active member of the Highland Park community and is involved with a variety of organizations. She has served as president of the Downtown Property Owners Association, has been a Commissioner on the Business and Economic Development Commission in Highland Park, and active with additional causes including the ADL. When she's not coordinating an upcoming festival or volunteering, Amy enjoys playing golf, traveling, cooking and spending time with her two children.