Amdur Productions is always trying to make the art festival experience better for the artists and the community. Because of this, we decided to create an Advisory Board with 9 artists who are actively involved with art festivals.
We held our first meeting on Wednesday, January 14. The Board discussed everything from festival times, activities, entertainment, to artist accommodations and new festivals. Our goal is to take these artists' opinions and make our festivals the best they can be for the artists.
Thank you to our Advisory Board Members!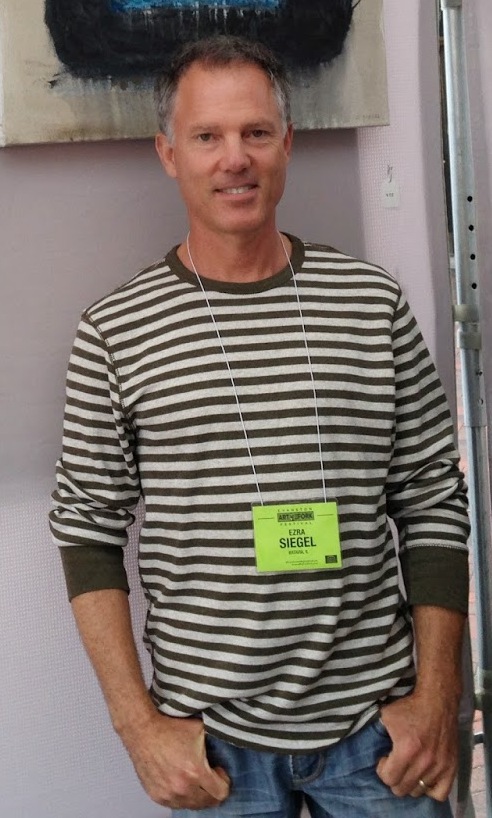 Ezra Siegel
Chicago born artist, Ezra Siegel, comes from an artistic family.  His father, Arthur Siegel, is a world renowned photographer and his mother, Irene Siegel, a well known Chicago painter.  At an early age Ezra took an interest in architecture. He attended Francis Parker High School in Chicago, and graduated from Vassar College in 1982, with a major in Art History and Architecture. He moved to Italy to copy the great master drawings in the Uffizi.  In 1993, he married violinist, Kathryn Shumaker, and moved to Lisbon, Portugal for 6 years.  He then moved to Toronto, Canada.  After 2 years he returned to the Chicago area to pursue his painting career.
Though Ezra has spent many hours visiting museums and perusing art books, he considers himself a self-trained artist. Ezra primarily shows in and around Chicago.  He has shown in New York, in one-man and in group exhibitions.  He has also shown Internationally both in group shows, such as Mae D'Agua, and in gallery representation.  Ezra has been awarded numerous Best in Show and First Prizes in painting, and recognition by numerous juries such as Illinois Arts Council and Art Loop Open.  He currently is represented by The Water Street Gallery in Douglas, Michigan, and Arteresource Gallery in Boston, Mass.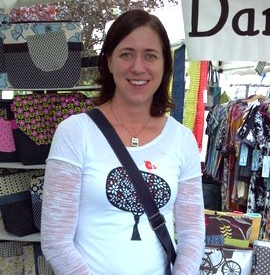 Jill Scales
I create the original award winning designs, cut the fabrics, personally sew and hand stitch details on every bags. The unique combination of fabric and ribbon makes each bag one of a kind. Ribbon, buttons, fabric flowers and vinyl decals accent the bags. All done in my home studio.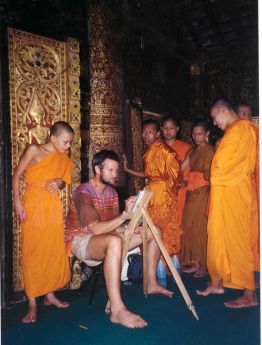 David Dallison
My Technique
First I travel to a location that I find interesting. I then set up my easel and do a gestural drawing in pencil on watercolor paper. I proceed to paint my layers of watercolor over that drawing using it as a way to indicate where I want to place my colors. I work in transparent watercolor using no opaque colors or white. I use the highest quality acid free rag paper and professional grade non fading pigment. I do not create my paintings from photographs. The feel and excitement of looking directly at reality and expressing it, is a vital part of the narrative in my work.
I most often work in series, my most recent being 95 watercolors created over a 2.5 month period travelling through Burma and Vietnam in May and April of 2013.
Fine Art
Encountering exotic locales and diverse cultures through painting has allowed me to observe and express what is shared and common to much of humanity. Despite our cultural and political differences and no matter where we call home and what language we speak, we are united by our partnership with nature. Over the last 25 years, I have explored and painted the landscapes of diverse cultures: Burma, Italy, Turkey, Viet Nam, France, Russia, Ireland, England, Spain, The Czech Republic, Slovenia, Germany, Poland, Hungary, Croatia, India, Nepal, Thailand, Indonesia, China, Japan, Cambodia, etc. These paintings tell the story of my travels and are a celebration of this earth and the places, events, and people that particularly inspire me.
My trips are a pilgrimage of sorts, in the spirit of bygone days when painters traveled near and far in search of the extraordinary. I travel light, necessity dictating what goes into my one backpack which protects paper and paints from the elements, and also contains my lightweight aluminum easel. Traveling this way allows me to paint plein air (working on location in outdoor light) a range of vistas that capture my imagination, no matter what challenges the terrain presents.
I have studied at the Art institute of Chicago and have my degree from the Ontario College of Art and Design University, Toronto, Canada. I have been living and working as an artist in Chicago for the past 25 years and have exhibited locally and internationally. My fine art can be found in numerous corporate and private collections. In addition, I have painted over 2000 commissioned paintings. Currently, I teach at the Chicago Botanical Gardens, the Deerpath Art League in Lake Forest, IL, and the TAC Center in Highland Park, IL.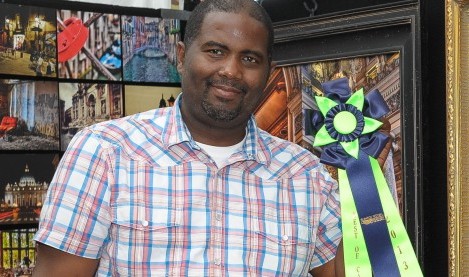 James Cole
James Cole is an artist with a deep love and passion for both photography and travel. A world traveler, he sees life as a journey and sharing the images he's captured during his travels is a way of taking the viewer along with him as he continues to grow as a Photographer. While he uses a variety of techniques and lenses to shoot - he is a student and practitioner of High Range Image Photography (HDR) - which is achieved by layering different exposures of the same shot to create a much more dramatic, defined and "painterly" image. Through this technique his goal is to create more stunning and compelling photos which blur the sense of the difference between an actual photograph and a painting.
In his short photography career he has been invited to participate in many juried art shows and art exhibitions. In 2011 he won "Best of Show" in an art exhibition for the Chicagoland's Photographic Arts Society's Show. He was also selected as one of the best photographers in Chicago and his work was featured in the 2010 coffee-table book, "Capture My Chicago." His photos have also been highlighted on NBC TV.
James says that through his photos he hopes to tell a story, elicit a reaction, beg a question, conjure a memory or invoke a feeling. Ultimately he says, at the very least, his hope is to simply have those that encounter his work to "feel something."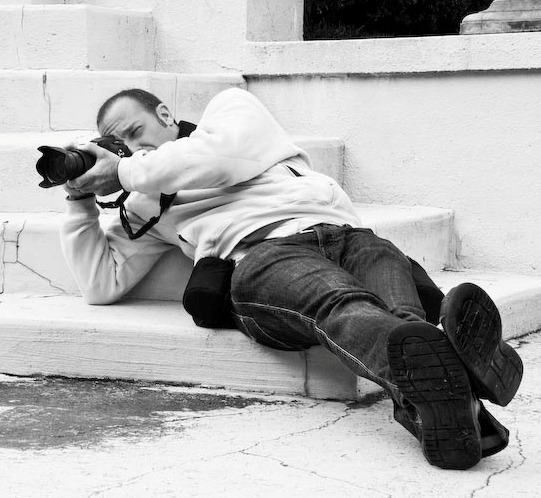 Scott Fishman
Scott Fishman Photography specializes in aerial and architectural photography for architects, real estate developers, construction firms, general contractors and property management companies. We offer the expertise necessary to create distinct images that will satisfy your marketing needs and provide a competitive edge.
These images will feature unique perspectives and striking compositions that accentuate the prominent attributes of your structure, space, or surrounding environment. They will engage viewers, initiate inquiries and ultimately lead to increased revenues for your company.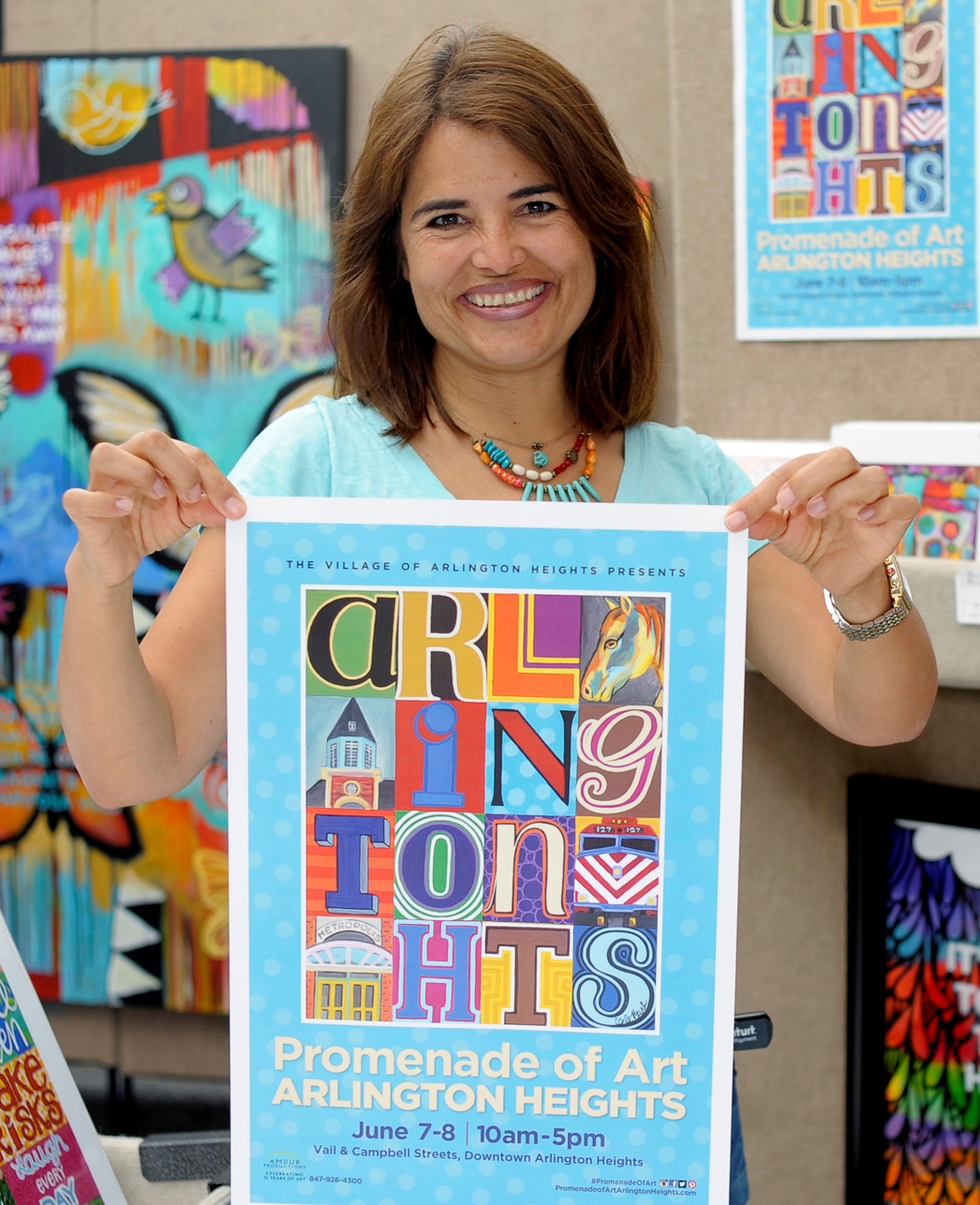 Carla Bank
"Art has been a constant in my life; a source of peace and serenity.  It is a passion that I discovered in childhood and it has gotten me through my darkest days.  As a native of Mexico and a long-time resident of Chicago, I bring a unique perspective to my paintings.  My background in graphic design adds another twist - a fascination with the influence of art on marketing and marketing on art.
Over the last few decades, my career has evolved as I have experimented with various materials and mediums.  I discovered on this journey that as an artist I belong in the world of bright colors, acrylics, whimsy and pop culture.  When I paint recognizable people, places and things, my hope is that all who view my work will feel a comforting familiarity.  I want to give back what art has given me.  I want to emanate joy, wonder and an unmistakable sense of place."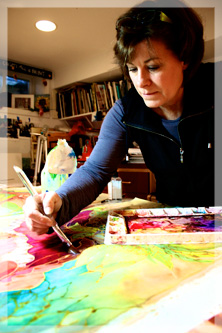 Anne Hanley
Anne Hanley is a professional Batik artist and painter from Wheaton, Illinois. Working from her home studio, Anne has mastered the art of Batik in her own way. Her colorful blend of watercolors and hot wax on a ricepaper surface is a unique alteration of the centuries old art form. Anne has been displaying and selling her work for several years in juried art fairs and exhibitions throughout Chicago and the Chicagoland area.
Anne holds a Bachelor of Arts Degree from IllinoisStateUniversity, majoring in Art and design. She began her career as an Art Director in multi-image and video production for Educational Training and National Sales Conventions. After a few years, Anne retired from art direction to stay home and raise her three daughters. She decided to return to painting and began to study at the Art Institute of Chicago, the TextileArtCenter and the EvanstonArtCenter. Anne decided to study privately with a few select oil painters but the art of Batik became her main focus and she took several classes in fiber arts exploring the method of resist painting.
Anne was raised in a family of musicians where education in the classics and the discipline of practicing was the basis for improving her skills.
"Art is the discipline of practicing those fundamentals and the desire to explore and invent something new which becomes the creation of art. All art is forever moving forward as you progress so does your work. The fundamentals of color, line, form and composition and their relationships are the key ingredients in producing art."
Her passion for community has led her to several public art projects. Her first project, in 2004, for Children's Assistance Foundation (ECAF) in Elmhurst, Illinois, was followed by the completion of three different projects in 2006 for United Way of Naperville, Illinois, and most recently a project for HCS Family Services of Oakbrook Illinois is to be displayed, May - September of 2011.
Recently, Anne was commissioned by Edward Hospital for eight works of art for their newly constructed Plainfield Cancer Center in Plainfield, Illinois. Four other original pieces were purchased by Edward Hospital's Cancer Center, in Naperville, Illinois.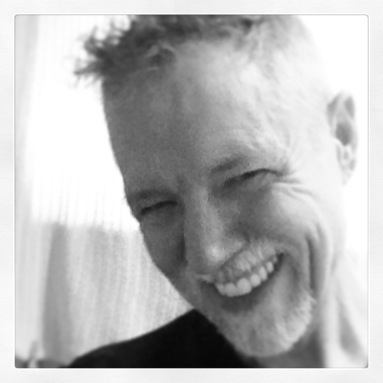 Kevin Lahvic
Artist's Statement
"Ask a class of first graders if there are any artists in the room and they will all raise their hands.
My hand's still up."
– Kevin Lahvic
Biography
Kevin Lahvic is a contemporary American artist who has worked as an illustrator, a designer, a staff
artist, a cartoonist, a writer, a musician and an art director. Since 2000, his primary focus has been
to concentrate on a fine art career and the operation of his studio/gallery in the historic Flat Iron
Arts Building located in the heart of Chicago's Wicker Park neighborhood.
Technique
"Over time, I have developed a unique painting style that combines the use of both acrylic and oil
based paints. I start by building up layers of texture with acrylic paint, often mixed with other
materials and mediums. When I'm happy with that surface, I start to draw with an acrylic based
fabric paint that I apply in thin lines by squeezing the paint out of a tube. Next, I apply an over-all
layer of oil-based paint, mixed with a translucent drying medium to the entire surface of the
painting. I work on that oil layer in the negative by pulling off and removing the oil paint in varying
degrees with the use of rags, toothpicks, fingers, etc. The removal of the oil layer exposes the
acrylic paint beneath, its brilliance determined by how much of the oil layer remains. I then add
finishing touches to the piece with oil pigments applied with a brush. Lastly, I put a coat of varnish
over the entire surface."
Kevin Lahvic
Gallery Address:
Flat Iron Arts Building, Suite 222
1579 North Milwaukee Avenue
Chicago, IL 60622
Direct Phone: 708-415-6370
e mail: kevinlahvic@me.com
www.kevinlahvic.me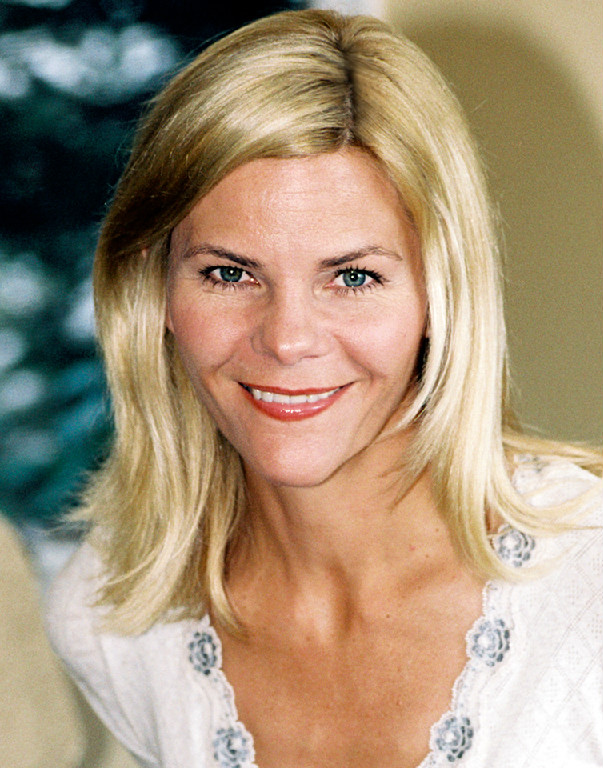 Shelly Lawler
I was fascinated to capture, create and participate in images of nature.
My subject matter: Peace of Mind. I often say, "I've had everything else, I'm just looking for Peace of Mind..."
As you click through my site you will see some staged garden scenes - my garden is my studio - and you will see some images that I could never set up. In both cases, I am waiting; for light and life. Waiting, to see what the garden will conjure.
Inviting you to dream, catch your breath, rest.
Today I still shoot film - though not as frequently - as well as digital images. I have a digital darkroom and do my own printing. I exhibit at Fine Art Fairs throughout the US and welcome people to my garden for one of a kind Portraits...
I am humbled to say my work hangs in offices and homes throughout the US. I've sent pieces to Europe and Asia as well...
Wherever I travel, I am always in search of Peace of Mind. That's why you will see an occasional image from a walk on the beach, one from beautiful Tuscany, some from other distant places.
I also have had occasion to perform my multimedia presentation; "Patient, The Garden Waits," to various groups and organizations. And my first book:"In The Garden Collection; a spiritual journey into the heart of the garden," is available.
If you are wondering who handed me that old Nikon N90... well it was my husband Val Mazzenga.
Val is a former Chicago Tribune Photojournalist, he has won over 200 awards, has been nominated for the Pulitzer Prize 6 times and is in the International Press Club Hall of Fame. His eye and his heart both support and shape my work. He is my greatest champion and best friend. Val works with me on everything.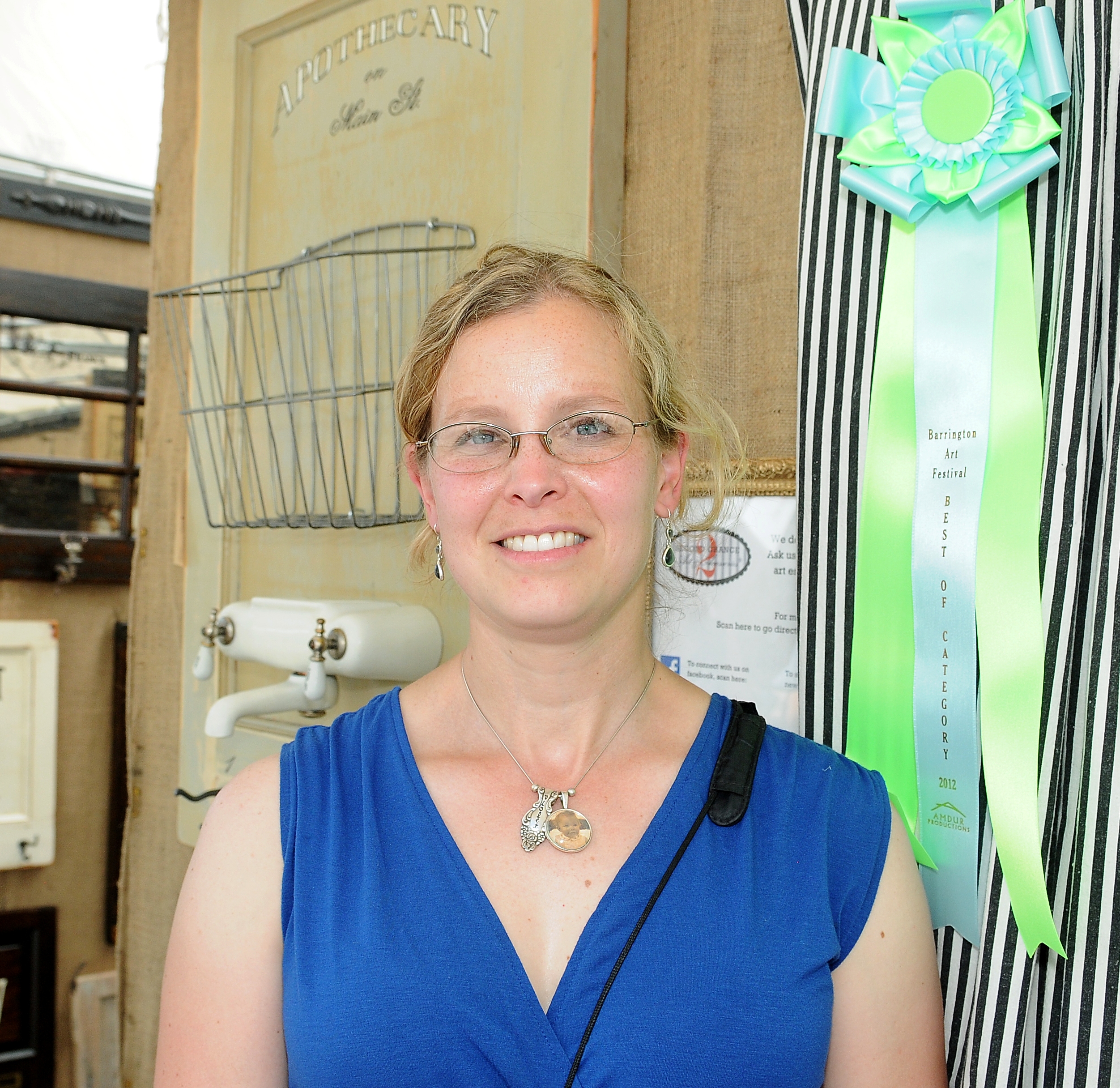 Amy Manning
The goal of my art business, Second Chance Art & Accessories, is to create unique and functional pieces while preserving the beauty of the past.  Pieces are crafted from recycled vintage materials like doors, windows, moldings, and hardware.  All woodwork is typically refinished - but care is taken to preserve the original patina of the materials.  For example, a door may be sanded and stained, but scratches, dents, and paint residue are still present.  Each hand painted lettered design is an original creation, inspired by old photos of storefronts, magazines, and the like.  Any hardware used has been stripped of old paint, cleaned, polished, and carefully selected to fit the feel of each piece.  Hardware is sometimes repurposed; for example, a window latch may be used as a hook for keys, or a doorknob used as a coat hook.  Because of the inherent patina of salvaged materials, I'm proud to say that each piece of Second Chance Art is one of a kind.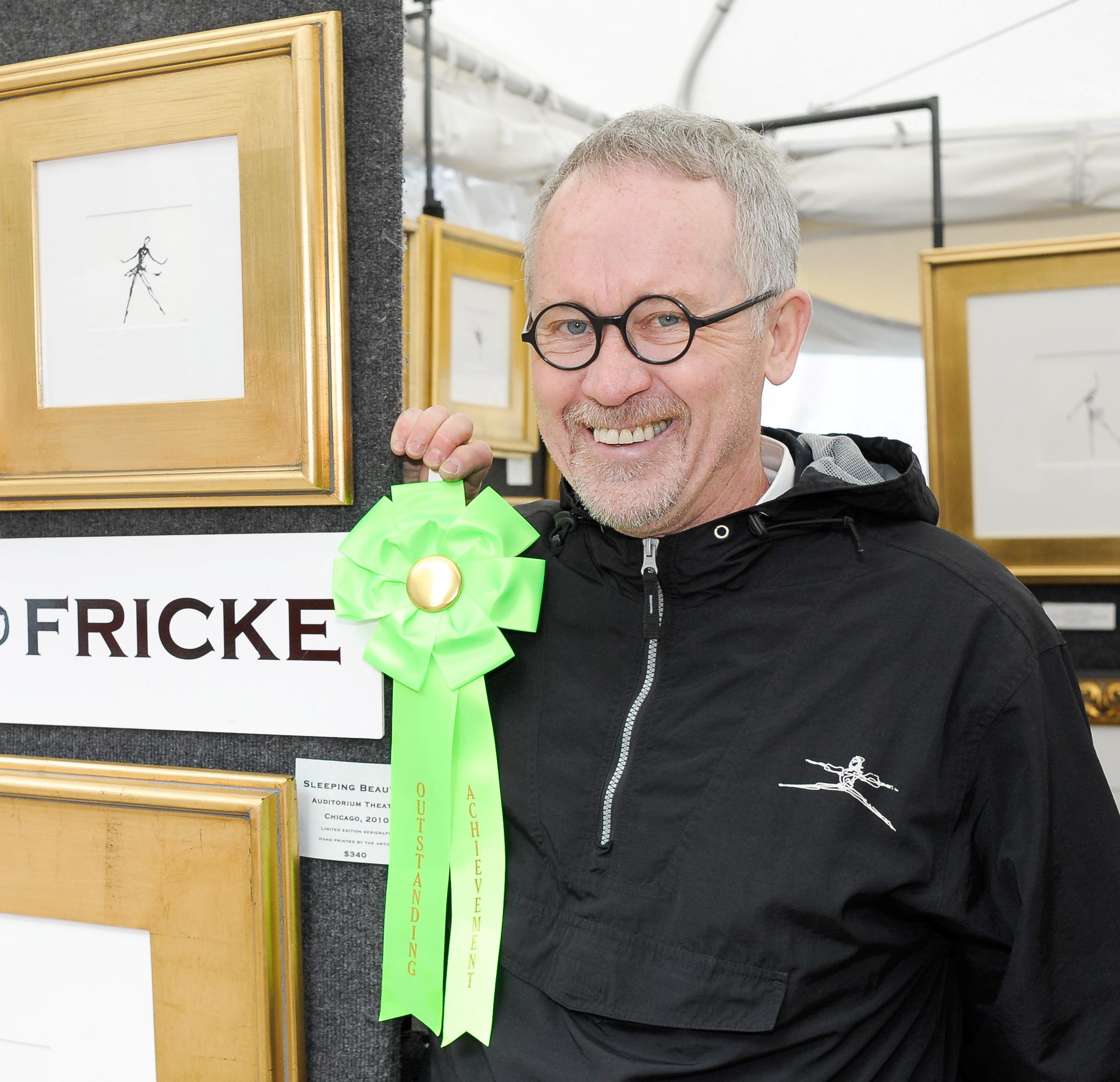 Jason Fricke
My ballet drawings are all created "live" during performances and ballet rehearsals. Portraying ballet dancers in motion is best done with a direct minimalist style. I draw quickly and focus on capturing the vitality and immediacy of the dance itself. In addition to drawing ballet dancers, I also draw musicians, animals, and flowers. All prints are signed and numbered limited editions. All materials are acid free. Conservation grade glass is used in framed work.
More Bios Coming Soon!