Make Your Walls Work and Sell More
Artists, your tent walls are important selling spaces. Painters know this…but this rule applies to jewelers and 3d artists too!
Jewelers especially can easily maximize the power of their walls by hanging great blow ups of their pieces. These large photos help catch people's attention as they walk by and pull them into your selling space. Keep the photos in good condition and replace them as they get worn.
3d artists can create special wall pieces that integrate into their body of work. Examples of wall art can include mirrors, wall sculptures, clocks, wall hangings and wall art.
For those who don't want to display on the walls, instead of going naked, try covering vinyl tent walls with fabric, drapes or sheers. When choosing find something that will enhance your work. Many nice booths utilize sheer fabric swagged over the top tent bars and down the corner poles.
Final Thought: Make your booth a mini store/boutique. Details and aesthetics are important and can either encourage or hinder buying.
---
Tips to Increase Email/Mailing List
Artists, have a guest book in your booth at shows where people can sign up for news on you and your upcoming shows. Add the new names to your official email list after every show.
Prepare and send emails to your entire list with images of your art. Stay in touch with prospects and customers. Talk about what you're working on this week, the last festival you were in and where you will be next. Provide interesting info and keep your readers engaged.
Bonus Tip: At a show offer incentives for people to sign your guest list such as sign up to "Win a Piece of Art" or sign up to "See my new work before it's debut!"
---
Tips on Pricing
Artists, use nice price tags on your work to better establish your prices for the public. No visible prices give the customer the impression that your prices are arbitrary and open to negotiation.
Eliminate the question, "how much is this piece?" and concentrate on the serious customer.
How? Use price tags or small signs. You can buy them or make them. What they look like can be as original as your art.
Painters and 2d artists should never adhere a price to the surface of a piece as it reduces the importance of that piece. I prefer all price tags at the lower right corner below a piece.
Jewelers: You can attach price tags to pieces with thin thread or string,
Accessory artists: Creative price tags or unique signs work well.
Final Thought: Be confident in your pricing. If you believe it's a great price for the piece and the amount of work you put into it, stand tall and stand behind your pricing.
Bonus Tip: Consider having work in different price points so many different types of buyers can collect your work. 10 pieces sold at $100 = one piece at $1,000. Make booth fees with lower price point work.
---
Tips on Displays
Use displays that are in great condition. Make sure walls are clean, photos and signs crisp and bright, without fades, bent corners or torn edges.
Wearable Artists: Use good hangers made of wood or velvet. Avoid wire hangers at all costs.
Jewelry Artists: Make sure your cases sparkle, mirrors are clean, and your table skirts and clothes wrinkle free.
Accessory Artists: Repaint shelving units as needed. Tip: take a brush and small container of your wall paint to a festival for last minute touch ups.
Bonus Tip: Always have glass cleaner, paper towels, and extra hangers when you are traveling to a show.
---
Tips on Customer Interactions
Give out business cards to people who buy your art and those who are interested but not ready to buy. Have tons on hand and don't run out. Many artists put their booth number on the back of their card for those potential customers who are in "walking the show" mode.
Your business card should feature one or two strong images of your art, your name, phone number, email, and web site. If it fits, include the social media icons that you are on (Facebook, twitter, etc).
A card without an image does not continue to promote you…and will most likely be tossed in the round filing cabinet..
Bonus Tip: There are many different types of paper you can print your business cards on. Select your paper with care.
---
Tips on Displaying Art
Artists, display your art on multiple levels and give your art more emphasis. Putting your art on different levels allows the viewer to see each piece of art individually. It gives each piece it's own importance and view.
When buyers see you treating each piece with care and giving attention to each piece, it signifies a higher value, which gives the buyer more confidence to buy.
Bonus Tip: Levels should have a natural flow so that the eyes move gradually from one piece to another.
---
Tips for Increasing Interest and Sales
Artists, have a quick script that you can use to explain a SIMPLIFIED version of your process. It helps to have pieces in process or raw materials on hand to use as you talk (think 5th grade reports and visual aids.) Be to the point, short but sweet. Longer is not better.
When people understand all that goes into your art, they will be more likely to buy.
If you tell the story about how that piece came to be, the customer is now a part of that story and feels that connection to you and the art.
Bonus Tip: Do a live demonstration in your booth or if that is not possible, think about photos or a video on a laptop.
---
Tips for Jewelers and Wearble Artists
Take your pieces out of your case and show them to the customer. Take out one piece at a time so you can manage your work better.
Help customers try on necklaces and bracelets. Show them how easy your work is to put on…many people are using magnetic clasps or oversize clasps these days for that very reason.
Have at least two mirrors in your booth to accommodate multiple customers.
Give true and honest feedback…the customer will appreciate your finding the best piece for them.
Bonus tip: Use a mirror that is large enough for the person to see themselves, not just a small inexpensive plastic one. Everything in your booth can validate the value of your art, even your mirror.
Wearables: As people are browsing, mention they are welcome to try things on. Many artists create a small dressing room in a corner of their booths with a drape for privacy.
Have two full length mirrors to accommodate multiple customers. Make sure the frame of the mirror compliments your display.
Bonus tip: If customers can't find their size, offer to do a custom order for them, exactly how they want.
Model your art and see your sales increase.
---
Tips on What to Wear at Shows
Jewelry: Wear solid colors that compliment your jewelry. Great necklines bring drama to necklaces and pulled back long hair shows off earrings best. If you have someone helping in the booth, have them model too.
Show interesting ways to wear your jewelry…stack rings on your finger, wear pins on your cuff, or pins grouped on your shoulder.
Bonus tip: A quick manicure (or for women, press on nails) gets you festival ready.
Wearables: Focus the attention on your work by keeping your other clothing simple.
Hats? Wear them. Scarves, dresses, vests? Wear them. Purses? Model the way a bag looks when carried. And…let the public try on your work too.
Bonus tip: A quick manicure (or for women, press on nails) gets you festival ready for showing off your work to its very best.
---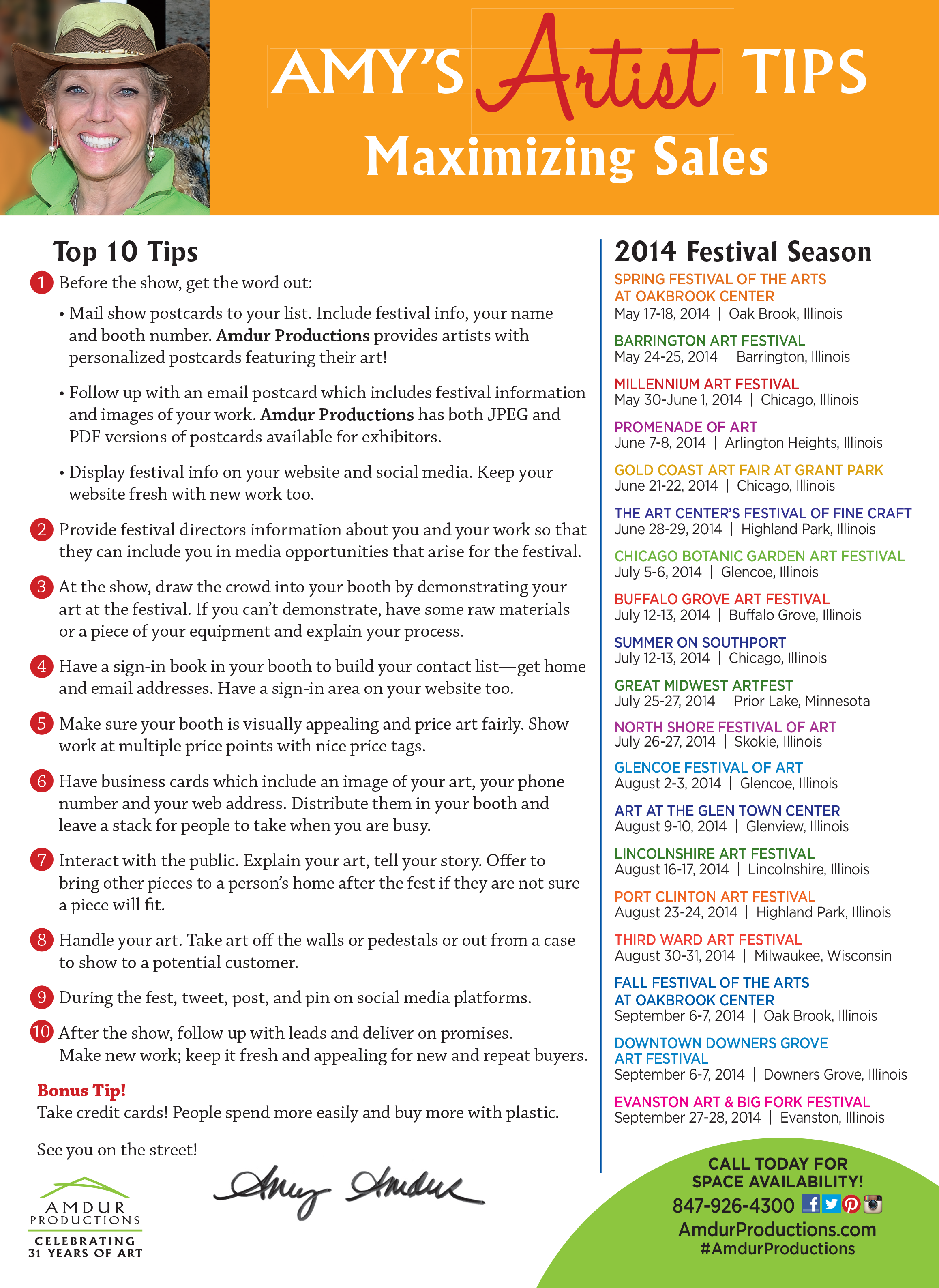 Maximizing Sales at Art Festivals
---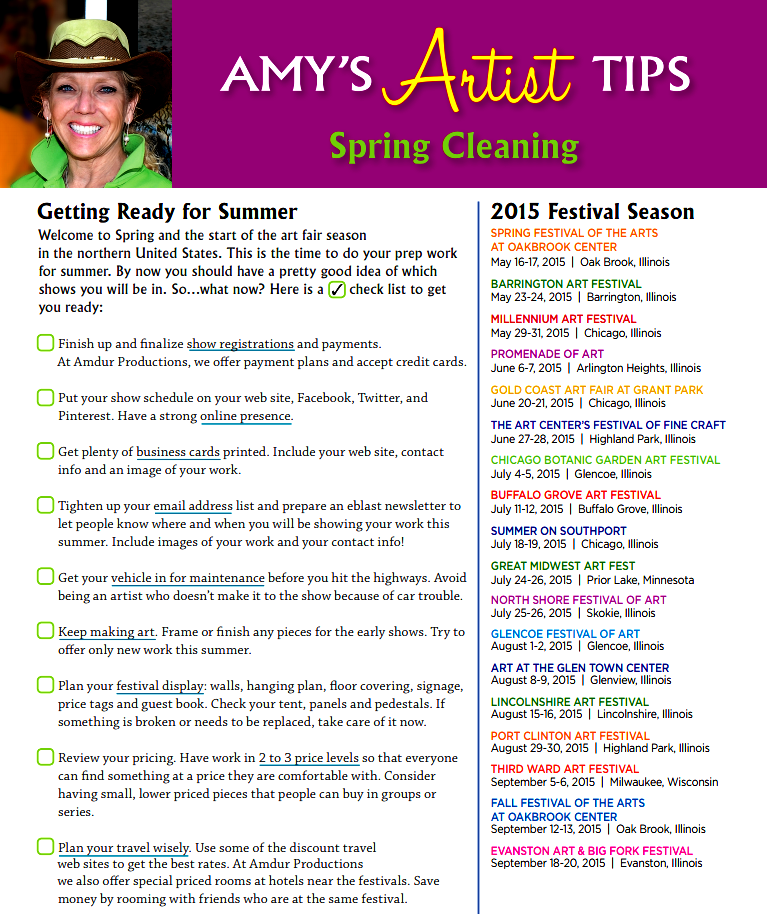 Spring Cleaning
---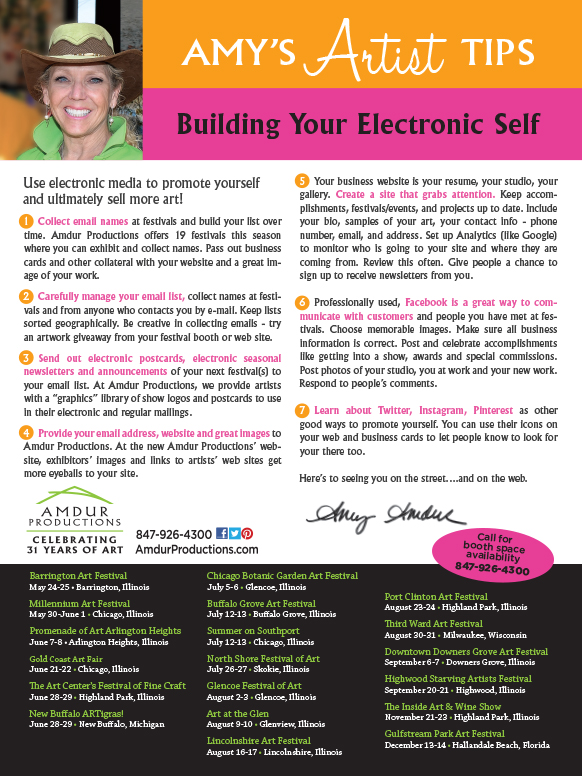 Building Your Electronic Self
---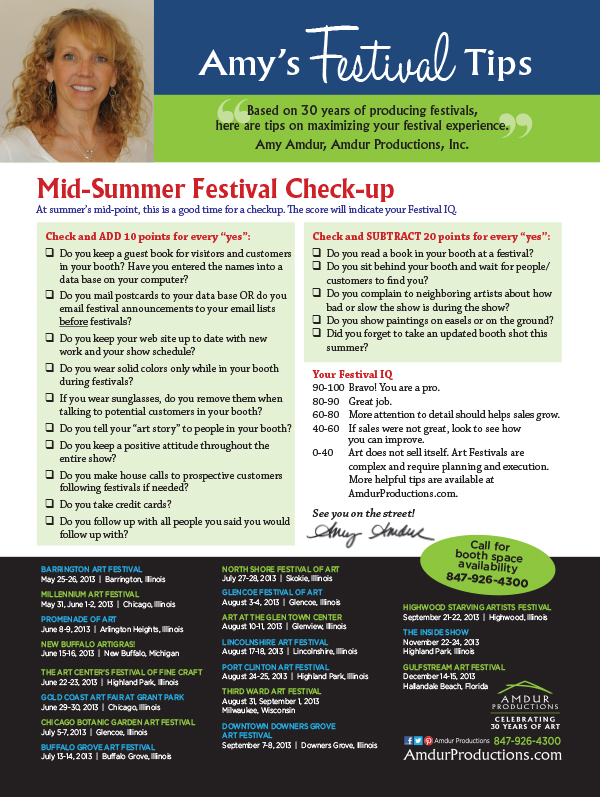 Mid-Summer Festival Check-up
---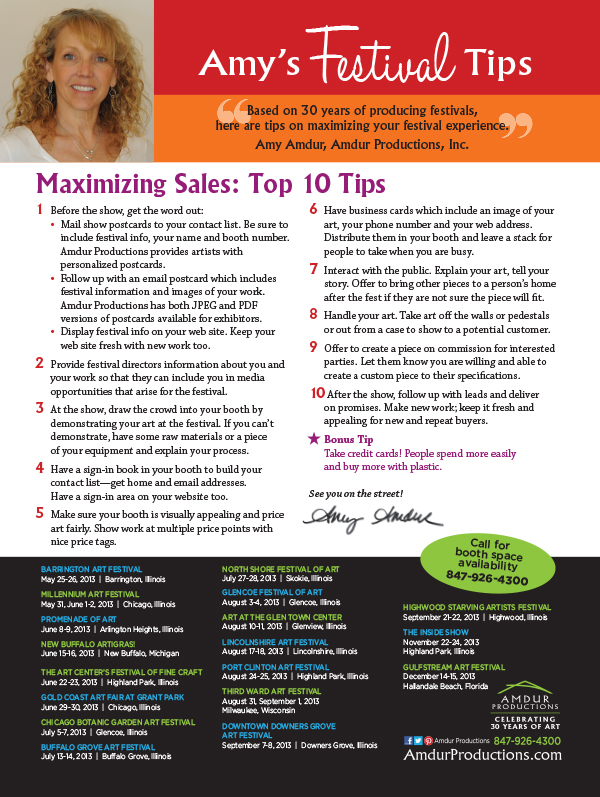 Maximizing Sales: Top 10 Tips
---
Spring Cleaning, Getting Ready for Summer
---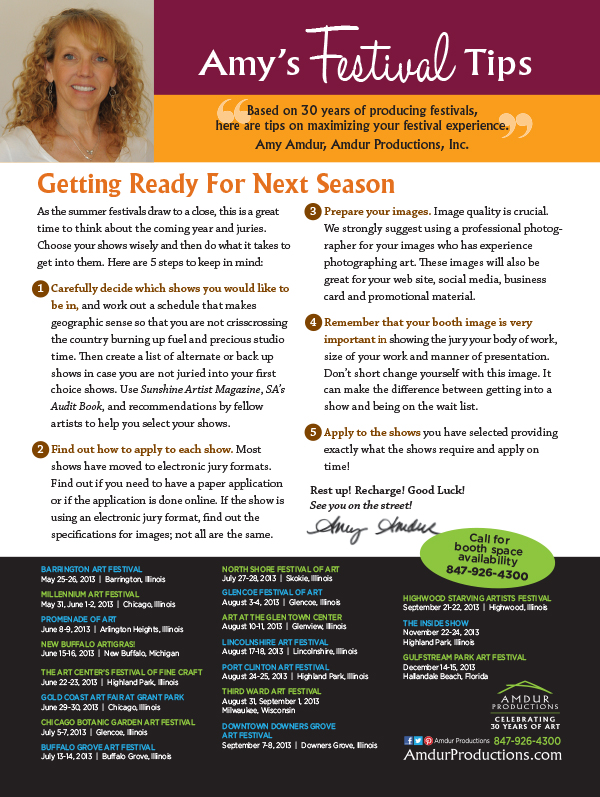 Getting Ready for Next Season
---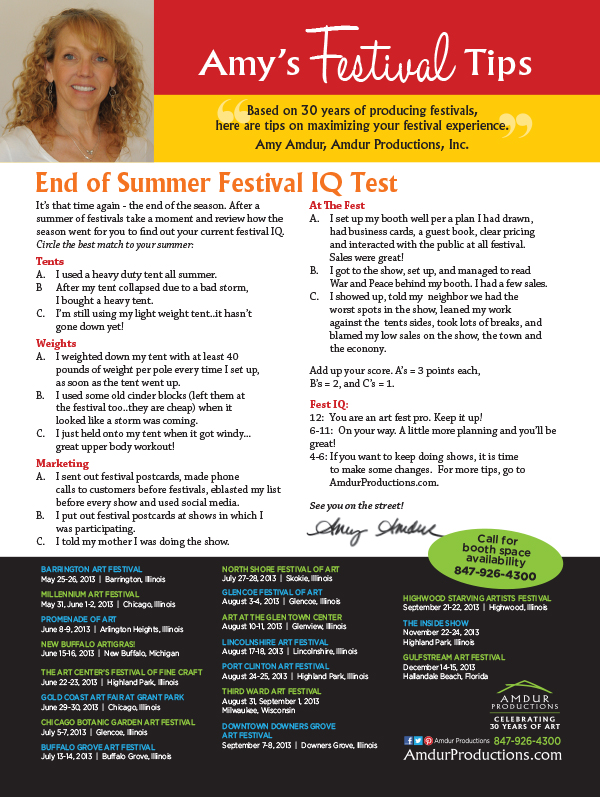 End of Summer Festival IQ Test
---
Spring Festival Booth Tune Up
---
Surviving and Thriving This Winter
Click to download PDF version
---
Getting Ready for Next Season
Click to download PDF version
---
Festival IQ Test
Click to download PDF version
---
End of Summer
Click to download PDF version
---
Maximizing Sales
Click to download PDF version
---
Pricing your Art
Click to download PDF version
---
Maximizing Sales this Summer
Click to download PDF version