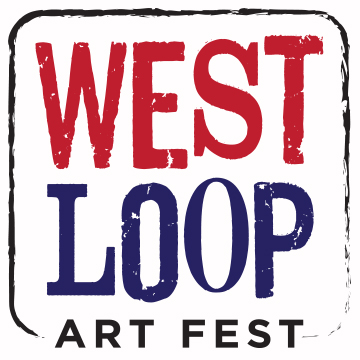 WEST LOOP ART FEST
Chicago, Illinois • September 16 & 17, 2017
Saturday 10am – 10pm & Sunday 10am – 9pm •
Artist selling until 7pm Saturday & Sunday
---
Six blocks of cool art!
The West Loop Art Fest will be located along Washington Boulevard between Aberdeen and Halsted Streets on Saturday, September 16 from 11 a.m.-10 p.m. and Sunday, September 17 from 11 a.m. – 9 p.m. Art will be available for purchase until 7 p.m. on both evenings, with music and food sales continuing through the close of each evening. This family-friendly summer festival will be enjoyable for all ages and is located in one of the hottest neighborhoods in the US.
The West Loop Art Fest will showcase the work of more than 150-juried artists from across the country in a variety of mediums, including paintings, glass, ceramics, photography and jewelry.  In addition to the incredible artwork available for purchase, attendees of all ages will be able to create artwork in some of the interactive art tents.
Share on social media
2017 Festival Artists
West Loop Art Festival features the art of the following artists.
Coming soon..
2016 West Loop Saturday Line Up
East Stage
8:00PM Trippin Billies
6:00PM Stache
4:00PM Gooey
2:00PM Chicago Samba
1:00PM Live Art by Cooney ArtWerks
11:30PM PJ & Soul
10:00AM The Magnifiers
DJ Stage
8:45PM MAAD Soul
7:30PM Bomba con Buya
6:45PM Bloco Maximo
5:30PM Adam Gibbons
4:15AM Forever Monna
3:00PM Fathom
1:45PM Tony Technics
12:30PM Numo Dan
2016 West Loop Sunday Line Up
East Stage
8:00PM 16 Candles
4:00PM The Boy Band Night
2:00PM 7th Heaven
12:00PM West Side Winders
11:00AM Extensions Dance Company
10:00AM DJ Cool and Pride
DJ Stage
7:00PM Alan King
5:45PM Gene Hunt
4:30PM Lady D
3:15PM CumbiaSazo
2:00PM EchoDroides
12:45PM DJ Caveman
11:30AM Rich Martinez
Acoustic Stage
Cirrus Falcon
SOUND CHECKS WILL TAKE PLACE WITH RECORDED MUSIC PLAYING
*Subject to Minor Changes
Visitor Information
WHAT:
West Loop Art Fest
WHERE:
N Halsted St & W Washington Blvd
Chicago, IL 60661
WHEN:
September 16-17, 2017
Saturday 11:00 a.m. – 10:00 p.m.
Sunday 11:00 a.m. – 9:00 p.m.
COST:
Suggested Donation $10
HIGHLIGHTS:
The Festival is held in cooperation with the West Loop Community Organization and is a joint venture of Amdur Productions and Star Events, each providing their expertise in Art and Music.
Want to be an artist in this show? Click on the Late Application below!
Parking
If you plan on driving, click here for available information on where to park.
Questions?
Need more information? Call the office 847-926-4300 or email info@amdurproductions.com with any additional questions or requests.
2016 Proudly Sponsored by
2017 TASTY TREATS
2017 MUSIC YOU CAN MOVE TO
Want to perform at the West Loop Art Fest?
Contact Lindsey Galassini at Lindsey@amdurproductions.com.
YOUTH ACTIVITIES
Let the kids express themselves by drawing on the Graffiti Wall or taking a spin on the spin art machine! Free activities including coloring and art fest bingo make this a fun, kid friendly art festival!
ARTISTS APPLY TODAY
Artists may still apply after the regular application period by submitting the Late Application below. Late applications will be reviewed in house and artists will be applying for a wait list position. Artists are taken by wait list number and category openings.
SPONSOR THE FESTIVAL
Sponsor this art festival and gain exposure!
Contact Us Today! Call 847-926-4300 or email Info@AmdurProductions.com.