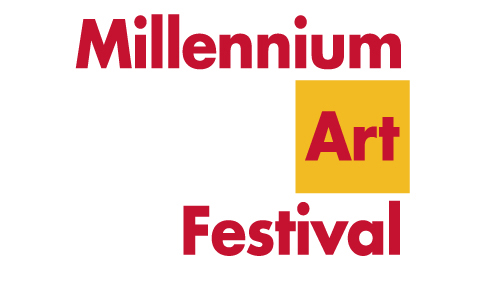 MILLENNIUM ART FESTIVAL
IN CHICAGO, ILLINOIS • MAY 29-31 • FRI 11AM-6PM, SAT 10AM-6PM, SUN 10AM-5PM
---
Popping up for a three-day weekend at the end of May, top-ranked art and design show Millennium Art Festival brings the art of happiness to the heart of downtown Chicago. Renowned as one of the "Top 50 Art and Design Shows" by Sunshine Artist Magazine, Millennium Art Festival embodies Amdur Productions' dedication to crafting an experience of art exploration. An array of artwork, including paintings, ceramics, photography, and furniture, showcases the talents of more than 110 juried artists who participate in this city-centric festival. Blending live performances, tasty treats, and interactive art-filled experiences, Millennium Art Festival infuses a creative spirit into Chicago's urban streets.
Beyond the head-turning tunes and palate-pleasing cuisine, festival-goers will have the opportunity to corral their creativity by contributing to a freestanding graffiti wall.
2014 Festival Artists
2014 Millennium Art Festival features the art of the following artists. Subject to change.
[put_artist_directory numberposts="15″ category="17″]
Visitor Information
WHAT:
The 6th Annual Millennium Art Festival
WHERE:
Lake Street at Michigan Avenue
Chicago, Illinois 60601
WHEN:
May 29-31, 2015
Friday 11:00 a.m. – 6:00 p.m.
Saturday 10:00 a.m. – 6:00 p.m.
Sunday 10:00 a.m. – 5:00 p.m.
COST:
Free Admission
HIGHLIGHTS:
Incredible artwork, live music, and great food add to the experience of this FREE outdoor festival.
Questions?
Need more information? Call the office 847-926-4300 or email info@amdurproductions.com with any additional questions or requests.
The festival is located in downtown Chicago at Lake Street and Michigan Avenue.
Getting There
CTA
Take by CTA's #20 or #56 bus from Ogilvie Transportation Center or the #147 or #151 bus from LaSalle Street Station. CTA train stations close to Millennium Park include the Red Line's Clark & Lake exit and the Brown/Green/Orange and Purple Line's Madison/Wabash Street exit
Parking
**Any reference to any sponsor, logo, brand name or other trademark or images featured or referred to within this publication or website are the properties of the respective sponsors or trademark holders. Such sponsors are not affiliated with Amdur Productions Inc. in any manner and such identification of sponsors is provided solely as an accommodations to potential art festival visitors. Amdur Productions Inc. does not assume any responsibility or liability for any use of the products or services provided by any such sponsor and shall not be liable damages that may be incurred by the user.**
Proudly Sponsored by:
2015 MUSIC YOU CAN MOVE TO
YOUTH ACTIVITIES
[show_myfile file='wp-content/themes/thesis/youth_activities.php']
ARTISTS – APPLY TODAY
Applications are still being accepted. Artists will be applying for a wait-list position.
Applications can be emailed to:
Angie@Amdurproductions.com
Or Mailed to:
Amdur Productions
PO Box 550
Highland Park, IL 60035
SPONSOR THE FESTIVAL
Sponsor this art festival and gain exposure!
Contact Joan Angulo by calling 773 665 7709 or email jangulo@jangulomarketing.com.