We are proud to announce 2 BRAND NEW art festivals in Chicago!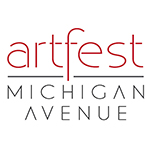 Amdur Productions proudly announces the launch of a new show: artfest Michigan Avenue. This three day fine art festival takes place on Chicago's famous Michigan Avenue at the base of the iconic Chicago Tribune building overlooking the Chicago River. Admission to the festival is free and open to the public. About 100 juried artists will be featured at this "all art" show. Night before set up makes for a more relaxed set up. The Magnificent Mile, also nicknamed the Mag Mile, is an upscale section of Chicago's North  Michigan Avenue. The street is Chicago's largest shopping district, occupied by upscale stores, boutiques, restaurants, luxury retailers, residential and commercial buildings, financial services companies, and hotels. Tourists, residents and area professionals pack the area daily. Facts: In the area,  residents have an average household net worth of over $790,000 and 38% of the residents have graduate degrees or higher. More than 44,000 vehicles pass by this location every day. The combination of wealth, education, and lots of foot and vehicle traffic makes this location a great place to show and sell your art.
Jury Fee: $25
Space Fee: $625
APPLY HERE FOR artfest Michigan Avenue
The West Loop, named one of the hottest emerging neighborhoods in the World's Greatest Cities, officially announces the first Annual West Loop Art Fest this August 22 and 23 on Washington Street. The West Loop is the epicenter for Chicago's internationally acclaimed restaurants and is a hub for fashion and the arts. Chicago's world famous Hubbard Street Dance Theater and Soho House both call the neighborhood home as well. The West Loop is a hip urban environment with an art loving population. The West Loop Art Fest will live on four blocks of Washington Street, from busy Halsted on the east to Morgan on the West. A music stage and food will anchor the festival on the east end.The Festival is held in cooperation with the West Loop Community Organization and is a joint venture of Amdur Productions and Star Events, each providing their expertise in Art and Music.
Jury Fee: $25
Space Fee: $350