"At a show, the way your booth looks is an important part of your ability to sell. A better presentation will assist your sales and support your pricing."
~ Amy Amdur, CEO of Amdur Productions
Top 10 Booth Tips to Enhance Customer Experience and Maximize Sales
1. Plan Your Booth Well
Use graph paper or a computer layout program. Plan each wall, know the sizes of the work you intend to show. Hang pieces that stack on a vertical midline, and pieces that are side by side on a horizontal midline. Aim for symmetry.
2. Hang Pieces that Represents a Body of Work Together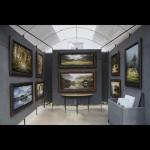 Try to have harmonious framing so that the public's attention is on your work, not on the frames.
3. Hang a Large Impact Piece or 2 in the Center of Your Back Wall
It can help bring people into your booth and support the sales of your smaller pieces.
4. Jewelers & Those with Small Pieces…
Consider photo blow ups of work on the back wall and the front lower sections of your cases. If the public can easily "see" your work from a distance, they are more apt to come into your booth for a closer look.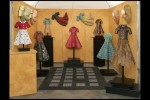 5. 3D Artists…
Consider multiple display levels, and use pedestals to show their work.
6. Signage is Important
Consider signage that reflects your art, not just a generic name sign. Velcro backed individual letters on fabric panels are a great to display your name as well.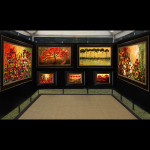 7. Include a Ground Cover
Solid color carpet remnants or throw rugs bought at a home supply store are inexpensive. Duct tape down all sides at the festival for safety.
8. Remember to Weigh Down Your Tent
Connect the weights to the upper cross bars of your tent so that your hard work does not blow away.
9. The Tent Itself is Important
A heavy, commercial grade tent with a sky light is best for most artists.
10. Use a High Director Chair
Choose a director's chair in a color that works with your booth. Web beach chairs do not belong.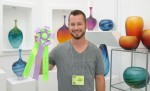 BONUS TIP!
You are Part of Your Booth
Don't wear print, patterned or "worded" clothing. Solids are best. Pick a color that works with your booth. Good luck! See you on the street.
Want More Tips?
FREE Art Fest Boot Camp
Please join us for a FREE workshop led by Amy Amdur covering key topics including: How to talk to your customers about your art, how to effectively display at a fest and how to increase your sales. Participating artists are encouraged to bring in one piece of their original artwork for display and review.
Show Off Your New Booth Display at Our NEW Art Festivals
We've added 2 BRAND NEW art festivals in downtown Chicago, Illinois! Using these tips, WOW the crowd with your newly renovated booth at these art festivals.
Click 
HERE
 for more information, jury process, and booth fees on these festivals.
Looking for more festivals?
Call for booth space availability at 847 926 4300.