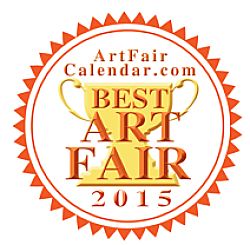 National Survey Picks Local Art Fair as Among Best in the Nation
Port Clinton Art Festival is a winner in the 3rd annual "America's Best Art Fair Awards" competition.  Named as one of "America's Best Art Fairs", the survey recognized Port Clinton Art Festival as one of the finest juried art fairs in the country.
Sponsored by ArtFairCalendar.com, the #1 website for art fair event listings, the 2015 online survey opened voting beyond the traditional "art fair insiders" such as artists and show staff to focus on voting by art fair patrons, fine art collectors and the public that attends art shows and festivals nationwide.
"Port Clinton Art Festival  has always been popular among art fair lovers in the Highland Park area, but our 3rd annual national Best Art Fairs Awards survey proves that both art collectors and artists nationwide love it, too," said Connie Mettler, Publisher of ArtFairCalendar.com.  "We're happy to give a "Best Art Fair Award to Port Clinton Art Festival today."
"We're very pleased at this recognition of Port Clinton Art Festival by ArtFairCalendar.com's "Best Art Fair Awards," said Amy Amdur.  "We have a great team of staff who work hard every year to produce this important cultural event that brings so much art, business, and cultural activity to the Highland Park community."
Port Clinton Art Festival, Highland Park's renowned summer event, returns to the city center with even more prestigious offerings than years past. Developed by Amdur Productions and recognized by Sunshine Artist Magazine and Art Fair Calendar as one of the top-rated festivals in the nation, Port Clinton Art Festival is one of the most successful juried art festivals and attracts more than 250,000 art enthusiasts from places near and far. More than 260 of the world's most celebrated artists come together to showcase their work over the course of the weekend, creating an atmosphere brimming with renowned creativity. Alongside established artists, a youth art division celebrates the talents of young artists ages 18 and under, offering them the opportunity to participate, exhibit, and experience the inner workings of an art festival. From onsite interactive art demonstrations by master artists to scavenger hunts designed for kids, the Port Clinton Art Festival truly has something for everyone.
APPLY FOR THE PORT CLINTON ART FESTIVAL TODAY!
About the 2015 America's Best Art Fairs Awards
The America's Best Art Fairs Awards are based on online voting by art fair patrons, collectors, organizers, and artists both regionally and nationally.  It is the only national survey of art fairs and festivals designed to recognize achievement in art fair event production and promote the cultural importance of fine art events across America.  Please visit http://www.artfaircalendar.com/art_fair/americas-best-art-fairs-the-top-50.html or http://www.BestArtFairs.com for the complete list of Best Art Fair Award winners for 2015 as well as top regional winners also.
About ArtFairCalendar.com
ArtFairCalendar.com exists to promote the work of the artists and craftspeople who earn their living exhibiting at fine art events around the U.S.
As the #1 Google ranked website for art fairs, ArtFairCalendar.com offers a national online calendar of juried fine art fairs, festivals and events bringing patrons to the shows and promoting cultural tourism. Founded in 2004, ArtFairCalendar.com is published by Connie Mettler, a long-term art fair industry veteran and consultant to fine art events nationwide.
Visit http://www.ArtFairCalendar.com for national fine art show listings and free regional email newsletters that can help you keep up with the art fairs in your community.