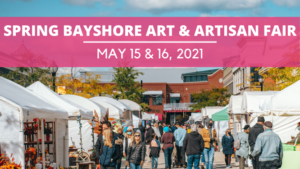 Amdur Productions in collaboration with BAYSHORE is proud to announce the Spring BAYSHORE Art and Artisan Fair! This festival will take place right in the heart of BAYSHORE in Glendale, Wisconsin. Glendale is a great community just north of Milwaukee.
BAYSHORE is an open-air, mixed-use shopping center featuring a variety of retail shops, restaurants, offices, and multi-family residential units. BAYSHORE boasts a dynamic atmosphere, plenty of free parking, and a unique shopping experience.
Artists, Artisans, and Makers are encouraged to apply to this 2 day fair! Medias of all types are welcome to apply, from art to food, clothing to lotions, stationary to furniture, and candles to home decor.
BAYSHORE is so excited to host this event and are earmarking funds towards marketing plans and additional professional Public Relations to back the marketing! With Amdur Productions behind the curation, production, and marketing for the show, it all adds up to being a great event this fall you won't want to miss!
Applications due December 15, 2020! Apply today > https://amdurproductions.com/2021-spring-bayshore-art-and-artisan-fair-artist-info-2/