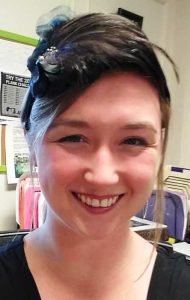 With a background in hospitality and psychology, Caitlin's real passion is people and communications. She has lived in many different suburbs and also in the Lincoln Park neighborhood in Chicago. Because of these experiences, she has a great understanding of the people in Illinois. Caitlin has worked in many jobs, from more technical jobs like database management and Audio/Visual assistant to more social jobs like Front Desk Agent and catering server. Through these jobs, Caitlin has always kept great service at the utmost important aspect of the job. While studying at DePaul University in Chicago, she interned with Amdur Productions for the summer of 2012 and fell in love with the art, the artists, and event production.  She then graduated in the winter of 2014 and immediately started full time with Amdur Productions.
Outside of work, Caitlin enjoys outdoor sports such as swimming and volleyball. She also likes playing darts, pool, and any strategic card game. She loves singing in her small band and seeing live music of all different genres.  
Caitlin is the main contact for all artists and art related questions. She's the person you want to talk to if you're not sure which show to do or where your art would be best received. If you want to contact Caitlin you can reach her by email at [email protected] or calling 847-926-4300.