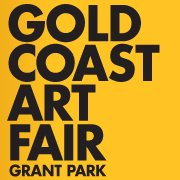 GOLD COAST ART FAIR AT GRANT PARK
IN CHICAGO, ILLINOIS • JUNE 20-21 • 10a-6p DAILY
---
Get ready for the return of the "Granddaddy of American Art Festivals"! Rated as one of the top 40 juried art festivals in the country, the Gold Coast Art Fair at Grant Park welcomes more than 300 artists from around the world to downtown Chicago. Exceptional artwork of all mediums, ranging in price from $25 to $25,000, will draw hundreds of thousands of art enthusiasts to Grant Park's beautiful Butler Field.
Celebrate the summer season with an art-filled experience at the 58th annual Gold Coast Art Fair. Take in the art action with incredible demonstrations by artists, live music, and interactive art projects. Go for a spin on the Spin Art machine to create a masterpiece of spiraled and splashes of paint.  Savor the summer sun and Chicago's stunning skyline in the city's iconic Grant Park.
Enjoy a beer, fabulous food, and live music in one of our three Food, Music & Beer Oases! It's all here at the Gold Coast Art Fair at Grant Park in Chicago, Illinois!
2014 Festival Artists
Gold Coast Art Fair at Grant Park features the art of the following artists. Subject to change.

Visitor Information
WHAT:
The 58th annual Gold Coast Art Fair
WHERE:
Grant Park's Butler Field at the corner of Monroe and Lake Shore Drive Chicago, Illinois 60603
WHEN:
June 20-21, 2015
Saturday 10:00 a.m. – 6:00 p.m.
Sunday 10:00 a.m. – 6:00 p.m.
COST:
Suggested donation of $5 for Chicago Park District's Art Programs
HIGHLIGHTS:
Incredible artwork, live music, great food and fun activities for kids make the Gold Coast Art Fair a destination for all! See the masters at work with live art demos and speed-painting taking place throughout the weekend. Nearby attractions, including Millennium Park and the Art Institute, add to the perfect day exploring Chicago and the Gold Coast Art Fair at Grant Park.

Schedule Coming Soon! 
Getting There
Reserve parking for the Gold Coast Art Fair with Parking Panda. Enter the promo code GOLDART20 at checkout for 20% off your first reservation.

The festival is located in downtown Chicago at the intersection of Monroe and Lake Shore Drive.
CTA
Take Green, Orange, Brown or Purple CTA lines to Adams/Wabash.Take the Red and Blue Line subways to Jackson.Take bus 130 from Ogilvie Transportation Center and Union Station.
Questions?
Need more information? Call the office 847-926-4300 or email info@amdurproductions.com with any additional questions or requests.
**Any reference to any sponsor, logo, brand name or other trademark or images featured or referred to within this publication or website are the properties of the respective sponsors or trademark holders.  Such sponsors are not affiliated with Amdur Productions Inc. in any manner and such identification of sponsors is provided solely as an accommodations to potential art festival visitors.   Amdur Productions Inc. does not assume any responsibility or liability for any use of the products or services provided by any such sponsor and shall not be liable damages that may be incurred by the user.**
Proudly Sponsored by:
2015 MUSIC YOU CAN MOVE TO
YOUTH ACTIVITIES
Introducing the Graffiti Wall! You can pick up bright, florescent chalk and express yourself on the 16 feet long, four feet high wall.
Get free souvenir photos at the photo booth! Commemorate your day with a free photo of the family and friends!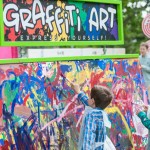 ARTISTS APPLY TODAY
Applications are still being accepted. Artists will be applying for a wait-list position.
Applications can be emailed to:
Angie@Amdurproductions.com
Or Mailed to:
Amdur Productions
PO Box 550
Highland Park, IL 60035
FOOD VENDORS
Food vendor applications can be mailed to:
Amdur Productions
PO Box 550
Highland Park, IL 60035
Musician? Email Lindsey at Lindsey@Amdurproductions.com